Yesterday I went to Target to get a new beauty blender … yesterday I went to Target and left with $117.64 worth of "stuff". I THINK I HAVE A PROBLEM.
The first step to recovery is admitting you have a problem, right? Well let's just say I actually ended up with 5 articles of clothing, a pair of earrings and we can't forget a BEAUTY BLENDER for $117.64 – I call that a successful trip. Keep in mind – I'm heading out for vacation tomorrow so that makes this Target trip a little more acceptable.
Let me tell you – if you haven't been to Target recently, GO NOW. I feel like for me Target is either hit or miss in the clothes section and right now is definitely a HIT.
HEART CARBS

Let's start with this adorable "Heart Carbs" shirt – completely unnecessary but completely perfect and only $14.99 ! It is hands down the softest most comfiest material ever made and one can NEVER have too many comfy lounge around shirts. Again – probably not completely necessary but for $14.99 I couldn't pass it up! They had a handful of other sayings in the same amazing material.
FLORAL TWO PIECE
NEXT IS THE MOST PERFECT OUTFIT EVER. No, I am not being dramatic – YES it was only $40.00 for the top and bottom (TOP 19.99 &  BOTTOM 19.99)! Let me lay this out for you – you get a top and a bottom for $40.00 – the top can be worn separately and the skirt can be worn separately YET they can also be worn together – the outfit possibilities are UNLIMITED and the print is to die for!
I don't know if it's because I'm headed to the beach tomorrow or if it's just because I fall into a daze once I step foot threw those perfect red doors but this was a MUST HAVE on my list. Don't you worry your little hearts it's packed tightly in my suitcase ready for it's beach debut. I would suggest going up a size or two in the top if you're a little bustier – can have those girls poppin' out!
SWIMSUIT GALORE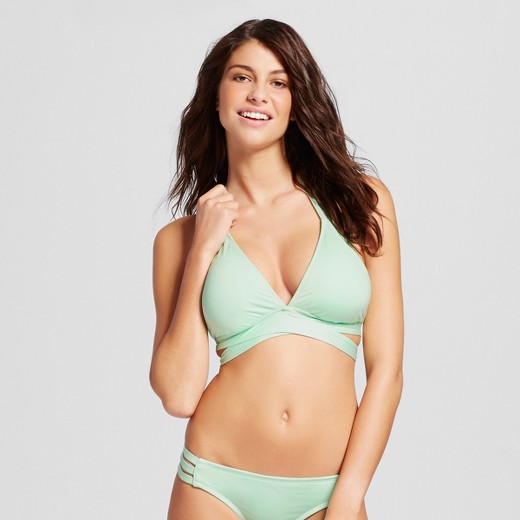 Here's the thing – I never intended on buy a swimsuit. I also never intended on stepping for in the swim suit section of Target but somehow on the way to the dressing room I lost my way and ended up there. I CAN'T CONTROL MYSELF. However, the good news is Target is running a swimsuit special Buy One, Get One 50% OFF! NO THIS IS NOT A DRILL.
Somehow I always justify swimsuits because having a bigger bust I can never find swimsuits that fully support me – so when I do I just have to buy them. I have no choice. The top was cute and extremely supportive and when I saw there was a sale I figured why not get some bottoms too? These bottoms are spectacular – they are so soft and comfortably fitting. Not tight bands that make extra muffins that I deem completely unnecessary. Just do yourself a favor – go check out the swimsuits .. NOW!
TOP 22.99 & BOTTOMS (On Sale) 17.46 <– FOR REAL BARGAIN.
SUGAR FIX EARRINGS
Okay, I can totally justify these. I actually had a new pair of earrings on my list of items to get along with a new beauty blender. Yes, that list might of stated that I needed diamond stud earrings but those are just minor details. Here's the thing – I actually saved money by purchasing these. The diamond studs I was looking at were $19.99 and these were ONLY SUGAR FIX 9.99 – I HAVE ZERO SHAME. Also when did Bauble Bar make a line for Target because it's perfect and extremely affordable. So I would be lying if I said I wasn't planning on going back today after work to find a couple more pieces…oops.
BEATUY BLENDER
WE OBVIOUSLY CAN'T FORGET THE BEAUTY BLENDER 6.99 – this little spongy item caused me to spend all this money. Just kidding – if it wasn't the beauty blender it would've been something else. However, Target did have some killer deals on beauty products and tools I picked this thing up last and I swore I wouldn't look around the beauty isles because then I would've literally left with zero money.
I'm learning to live with the fact that I can't go into Target unless I have a good hour or two… or three. BUT don't let this fool you – I love Target forever and always and if you don't then we are going to have some major issues.
PS. If you have some free time – maybe stop on in – take a look around but don't stay too long or your might get sucked in… unless that's your plan, then stay all day a bathe in the glory that is TARGET.
PSS. Keep an eye out for some vacation pics – coming your way later this week!
That's all.
XOB.